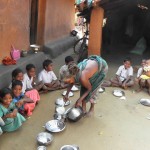 Poverty is particularly acute in the tribal uplands of Orissa. To reach a large number of people, our Indian partner, CHALE CHALO, has set up EMCOR, a Community Radio Project, which broadcasts to an audience of up to 500,000 in Western Orissa in their own language.
The programmes are made with considerable community involvement, and address a wide range of matters, from healthcare to education, from agricultural issues to climate change, and particularly to raise awareness of the government benefits and schemes to which people might be entitled. They are some of the most popular of the programmes, and provide a chance for villagers to 'star'.
The programmes are followed up by discussion in the villages, led by project workers, giving people a chance to share their problems and try and find solutions. Sometimes this might mean campaigning for an extra teacher in their school, for connection to the electric grid, for clean water, or against corruption in local government. All these matters are achievable; their successes have been many, and the changes are bringing real benefits to hard-pressed communities.
Gallery
[Not a valid template]