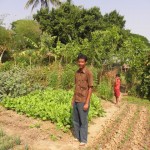 The aim of EMCOR is to raise levels of awareness amongst local communities about all the benefits that they might be entitled to, and this is already helping to reduce migration levels and improve the situation of many villagers. The next step is to help the villagers to increase their income, and the best way of doing that is to increase farm productivity.
If we can do that, then local people will be less dependent on government schemes and benefits, and will be able to move forward. We will do this by focussing on four main areas:
Watershed management and reforestation – improving the retention of rain, and irrigation.
Improved growing methods – SRI, forest gardens, veg. cultivation (with multiple- and inter-cropping), seed-banks, sustainable nutrient, pest and disease management.
Training in farming finance (to help avoid farmer debt and suicide which is very high in the area), marketing, encouragement of cooperatives and food processing.
Establishment and training of Farm Mentors to give advice within each village.
These people are incredibly hard-working, and our pilot projects have shown how successful this work might be.  A five-year project would enable us to make a real difference to farmers within our EMCOR project area, and any help would be most welcome.
Gallery
[Not a valid template]