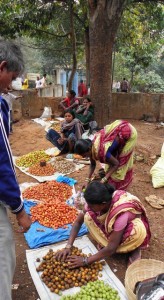 IVDT is a small organisation with no paid staff.
Founded thirty years ago, we formally registered as a charity in 1991. Our Trustees have a wide range of experience in social and development projects here and abroad, and strong links with India where we mostly work. We have a close involvement with the work, and one of the Trustees visit the projects each year to monitor and assess progress, and carry out training of staff and volunteers, as well as running workshops for teachers in the area, Women's Groups and children. This means that we have first-hand knowledge of the problems and achievements of the work that is carried out on the ground, and are able to build a long-term relationship of trust with our partners in the field.
Our priority is to help the most marginalised – women and children, dalits and tribals. We work in rural communities in parts of India which are being left behind by progress, leaving many even more vulnerable than before.
We have high standards of transparency and accountability, and insist that our project partners conform to those standards.It is also important to us that the project beneficiaries themselves become empowered and are able to take control of their future.
In addition to the work that we do in India, we are involved with campaigns in the UK, trying to address practices and change attitudes which have helped to create some of the most serious problems which are faced in our project areas.