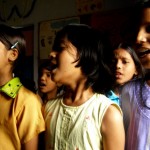 The BALIGA TRUST works in the slums of Delhi, where countless numbers of migrant workers come to find work, many of them from Orissa where we have projects. We have funded work at twenty of the Trust's 60 centres in north Delhi.
KALA KUTIR provides arts activities – story-telling, puppet making and plays, music, drama, dance and art. The children learn to work together, gain skills, confidence, and get used to the idea that education may have something to offer them. They perform prize-winning work at major events in the city. Most have gone on to school; some to art college, and are now back teaching the next generation of children. And a group of the older girls have set up a small business, printing cards and bags which they sell, bringing in money for themselves and for the project.
'STEP UP' provides remedial education for out-of-school children. We work with the families, so they will support their children's education. Classes are held in basic literacy and numeracy so that the children can reach a standard to join mainstream school, and help continues while they adjust to school. Training and support is given to the local teachers to encourage the children to continue with their education. It is their best hope for the future, and over twelve thousand children have taken full advantage of the opportunity that this offers them.
Gallery
[Not a valid template]